The COVID-19 pandemic is creating a lot of turbulence worldwide. Most industries have been shut down and companies will see a sharp fall in their business as both supply and demand are disrupted. After having assessed the situation and working with our partners to resolve some of the most complicated and challenging issues to get the economy back on its feet, this week we are tackling it head-on with our portfolio company Vottun and an ecosystem of partners in the US and Europe. To be a part of the ecosystem, please reach out to Aman Johar (aman@proteum.io) or Rohan Hall (rohan@vottun.com).
---
Back to Work Amidst the COVID19 Outbreak - A Safe Approach
The COVID-19 pandemic is a defining health crisis of our generation and one that is confronting every level of the U.S. economy. This is an unprecedented humanitarian challenge that will leave a deep economic impact on the rest of our lives. Of course, much of the world has no playbook to fight this crisis - partly because it cannot be classified under any linear thought process. The coronavirus has attacked at the core of our interconnected society, with a multitude of second and third-order effects rippling through an established societal order. A health scare has grown into a full-blown economic meltdown worldwide and is wreaking havoc in the lives of people who depend on a regular flow of income to survive and have little, by means of savings, to see them through a prolonged crisis like this.
To mitigate the spread of the virus, almost every developed economy has instituted mandatory lockdowns, with little to no movement of people and goods. Schools, offices, restaurants, theaters, national parks, sporting venues, etc have all shut down abruptly. Economic and commercial activity across the world has been brought to a standstill. In the US, the impact of such a lockdown is clearly visible in the unemployment statistics.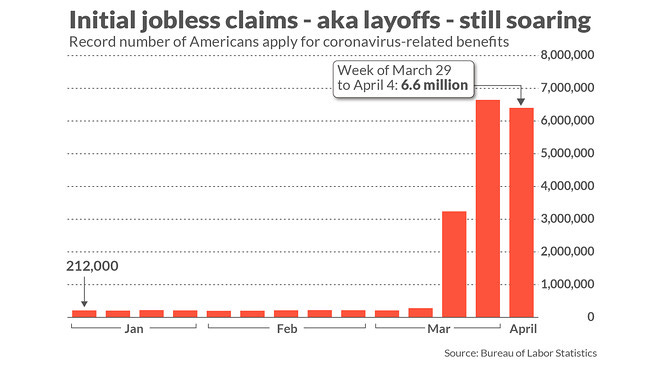 A recent Bain & Co. analysis estimated that
… two months of heavy mitigation could result in the US permanently losing up to one-quarter of all business establishments, accounting for $4 trillion of revenue (about 10% of total national revenue). We expect other advanced economies to suffer disruption on that scale as well. Traditional, after-the-fact stimulus likely won't be capable of containing and moderating that type of shock to a country's economic structure
As some European countries and China start to ease restrictions, there is still the possibility of a worst-case scenario if the virus flares up again during the course of the year. This would undoubtedly necessitate more lockdowns, more travel restrictions, more disruptions to our supply chains, and a much more prolonged and difficult path to recovery.
The immediate need of the hour, therefore, is to get our workforce and economy to start functioning - in a safe and secure manner. The coronavirus does not recognize any boundaries or authority. As such, no region or country can afford to end restrictions without providing for the safety and security of its people. Nor can they open up economic activity without a plan to contain the spread of the virus.
The UK's failed experiment with instituting herd immunity exposed the dangers of such an approach. In contrast, France announced that citizens would have to register their intention to leave their houses in a nationwide website or face a 38 euro ($42) fine, enforced by 100,000 police officers. Both of these approaches are unworkable. Unfortunately, there is no magic wand to wave and get out of this quagmire either.
Immunity Passports - A Promising, Ready To Go Solution
"Immunity passports" seem to be a promising way to end this logjam. These passports are just digital credentials that allow healthcare facilities to publish test results from individuals that can be verified in the public domain in a trusted manner. This requires a coordinated and collaborative effort on behalf of multiple organizations coming together to ensure that the virus spread can be contained, people at risk can be alerted, and hotspots of local outbreaks can be identified and movement in and out of them can be restricted. Such an idea is of course based on the assumption that widespread testing can be instituted and made available at a reasonable cost.
Eventually we will have some digital certificates to show who has recovered or been tested recently or when we have a vaccine who has received it.

- Bill Gates, on a recent Reddit AMA
From Concept to Reality - Building An Ecosystem of Partners
We understand the complexity of such a problem and the demands of a dynamic real-world environment in which a solution needs to operate. No one party can effectively do this by themselves and this is exactly why we have been focused on creating an ecosystem of partners to take this to market at scale.
Along with our portfolio company Vottun, we are happy to announce the launch of Immunity Passports in a solutions partnership with PwC. Vottun's digital credential app is already available on Oracle's marketplace. As the company begins to roll out its solutions in the USA and Spain, they are working with and onboarding leading healthcare providers, COVID19 test kit makers and distributors, testing labs and other entities that can play an active role and fulfill the supply side of the credential equation - ie. issuing trustworthy credentials that allow free movement of people who do not impose a risk to others.
The demand for such credentials has been robust, not surprising though, coming from a variety of sources including manufacturing entities and retailers (who wish to instill confidence amongst their employees and customers), travel and hospitality companies (who wish to provide secure environments to their customers), government entities in Europe and Latin America (more sensitive to unrest due to prolonged unemployment concerns) and logistics and delivery companies (an industry that can be a super-spreader, worldwide), to account for a few.
The workflow is designed to be simple and accommodative of the pressures of testing today and anticipate the need to scale and interoperate with a variety of enterprise systems and applications through open APIs, data and security standards. In a simple illustration, the system, already in production, works as follows:
Step 1 – Healthcare providers and test facilities are able to test for COVID-19 to determine if they are positive, negative, or immune to the virus. The test results are associated with the identity of the test taker and uploaded to a cloud-based environment through a simple web interface or a direct integration with the provider's electronic medical record system. This data is encrypted, immutably recorded and stored longitudinally over a period of time. In case of repeated negative test results, and depending on jurisdictional laws, the data may be periodically deleted (after say 45 days) to preserve privacy issues. No sensitive or personally identifiable information (PII) is ever shared with anyone in the ecosystem and is encrypted at the point of the test.
Step 2 – Vottun's technology creates a digital wallet and an immunity passport and securely makes this available in real-time to the person who was tested. The wallet and passport are uniquely tied to the individual's identity via cryptographic techniques and are never shared or revealed to any third party. A QR code representation is made available inside the wallet, which allows the user to easily provide their status information at any point of interest, whether at an employer facility, an airport or even a restaurant that may employ such techniques to ensure a safe, secure and trusted environment for its patrons. The user experience is not any different than using a digital boarding pass while moving through airports.
Step 3 – These credentials can be verified publicly by any entity wishing to do so. Most smartphones today are capable of scanning QR codes natively and confirming the status of an individual. This level of transparency instills confidence and helps create trust in an environment that is often not easily controllable by instituting local control measures such as a symptom check or a thermometer scan on the premise. For large user volumes such as those required by large employer campuses (such as Microsoft, Amazon or Google), or logistics and delivery companies (such as FedEx, UPS or UberEats) various analytics dashboards can be customized for tracing movements and reporting incidents without compromising personal identity. An integration with Google and Apple's recently released COVID-API ensures adequate privacy, transparency and consent issues are addressed.

These are unprecedented times and call for solutions that transcend competitive barriers and foster a spirit of collaboration. The exact environment and actions would obviously need to be implemented locally, with different approaches that can account for differences in healthcare infrastructure available or the scale of infected communities etc. With close cooperation and collaboration amongst developers, healthcare providers, private and Govt entities, we hope to create an ecosystem of partners incentivized to help countries around the world slow the spread of COVID-19 and accelerate a return of everyday life.
Whether you are a critic or a supporter of this approach, we invite you to join the ecosystem and help us make it better. Feel free to connect with Aman Johar (aman@proteum.io) or Rohan Hall (rohan@vottun.com) to jumpstart a conversation.
---
About Proteum
Proteum is a global blockchain investment and advisory firm that works with public, private and start-up companies to help them transition into the world of blockchains and decentralized applications. We help companies strategically build their ecosystem and unique capabilities so that they can own and control their future. Velocity, our innovation hub, invests in and accelerates the time to market for startups and emerging ideas.
www.proteum.io | info@proteum.io | Twitter: @proteumio | Velocity