Consensus acquires Quorum, Health Credentials and Blockchain in Space
Off The Blocks, Vol 123, Aug 26, 2020
The COVID-19 pandemic is still amongst us and shows no signs of life returning to normalcy anytime soon. We are working with our partners, clients, and portfolio companies, creating strong ecosystems for their mutual growth. Simultaneously, we are trying to resolve some of the most complicated and challenging issues to create a trusted environment for people to go back to work and get the economy back on its feet. You can read about our efforts in a 4 part series here. To be a part of the solution, reach out.
---
COVID19 and Health Credentials
Readers of this newsletter are perhaps familiar with the work I have been involved with as it relates to building trust and assurance into public environments so that businesses can open up safely. Safety is the most critical element of bringing back patrons - whether it is at restaurants, universities, warehouses, sports, or entertainment venues. Two other factors are equally if not more important - hygiene and comfort. While these can be tackled through a variety of products and services in the market, safety remains somewhat of a nebulous concept and there are few best practices to guarantee safety in a public environment - none as it relates to the perils of Covid19.
As early as April '20, we had identified and outlined an approach to opening up the economy safely via a tight coupling between Covid19 testing, combined with health credentials and rigorous contact monitoring. In the last four months, this approach has gained traction with a number of entities globally. It is not surprising then to see that health credentials are now featured as one of the emerging technologies for 2020, in the Gartner Hype Cycle. Operationally, it is a challenging task to create and enforce such credentials, with complexity spanning big data, medical regulations, and enforcement through actual on-ground operations. This is a new and complex area to navigate and the road is being built as it is being traversed. As such this is one area that requires curating and orchestrating an ecosystem of partners, all incentivized to work towards a common goal.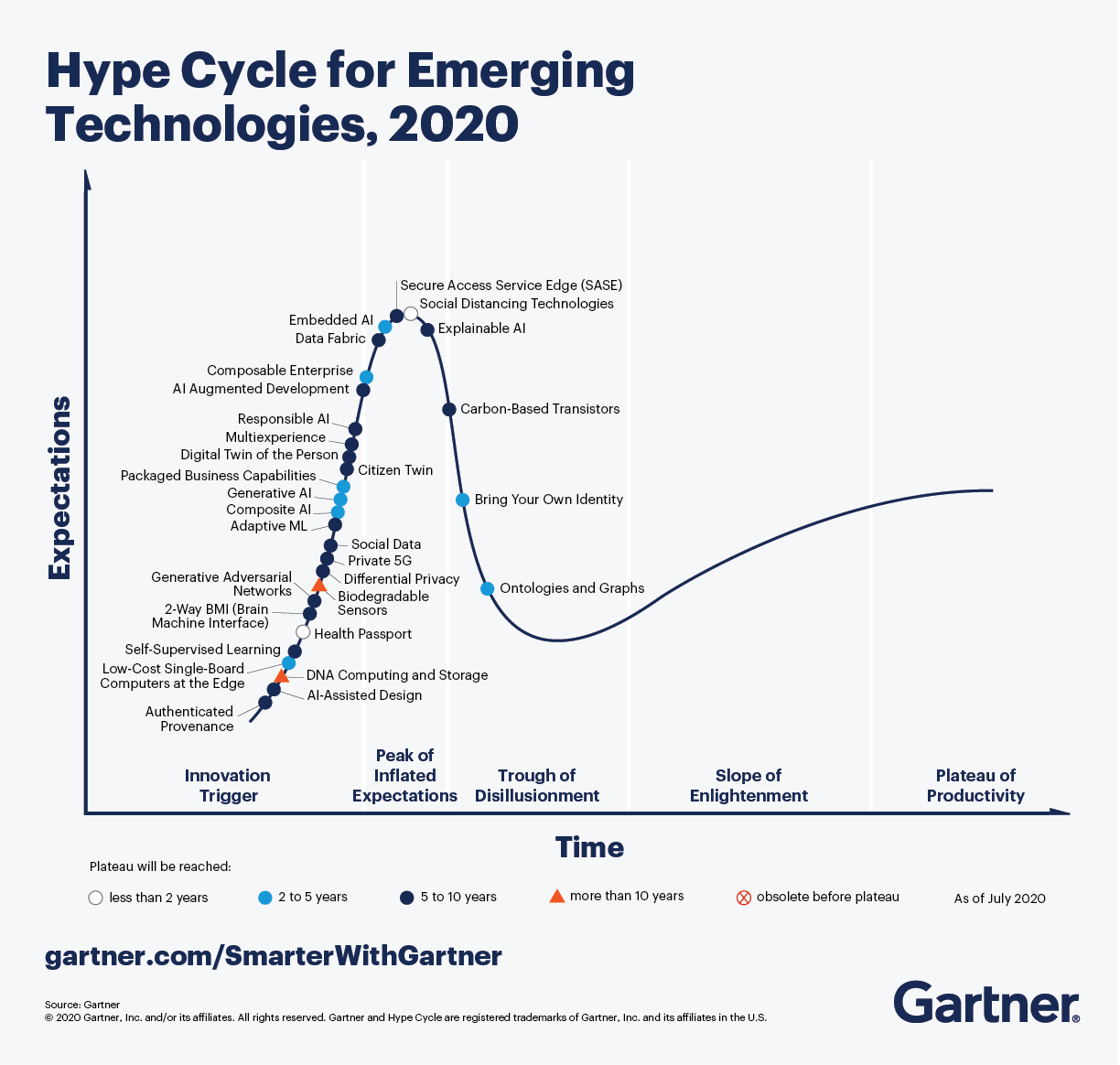 It is notable that the odds are stacked against such an ecosystem. For starters, none of the Covid19 tests available in the market have lived up to their expectations. Most tests have a lower threshold before they can detect the Covid19 viron in any sample. As a result, potentially infected people are advised to wait for at least 48 hours before they can get tested. Even when they get access to a test, the results are delayed so long that they are meaningless for all practical purposes.
The saddest thing today is that the majority of the testing is absolutely useless, because the results don't come back in 24 hours.

- Bill Gates, co-founder, The Gates Foundation
What is required is a rapid testing system, that produces results in near real time for them to be practically meaningful. A number of such tests are in various stages of development and regulatory approval. London's Heathrow Airport has been testing a number of rapid tests and protocols. The benefits of testing at airports are clear as it enables trade and travel to resume and
Today, testing is the only right answer to make sure people who have Covid can't get on a plane. And the technology is getting much quicker, much cheaper, more accurate. I just went to one of our trial sites and had a 20 second test that is more accurate than a PCR test. That is the kind of technology we should be backing to make sure we can get as close to possible as normal life.

- John Holland Kaye, CEO, Heathrow Airport
However, simply undergoing a test and testing negative for carrying the virus is not indicative of safety. As John states above, the test result needs to be enforced to ensure that people with Covid can't get on a plane. This is exactly where enforcement through health credentials come into play. They provide a way for authorities to independently verify the health status of individuals. Recently, South Korea mandated the use of health credentials for tourists visiting the Jeju Island. It now requires those visitors to use a decentralized identity (DID) blockchain technology based app that claims to offer private, secure COVID-19 contact tracing. 
Through this new infectious disease prevention system, Jeju Island will be able to be reborn as a safe and representative tourist destination in Korea.
Designed properly, these health credentials can protect individual identity, their privacy, and health data not related in any way to their test results. Indeed, at Proteum, along with our portfolio company Vottun, we proposed a framework for a Proof of Health credential. The solution is now being tested and ready to be integrated into operational environments including at universities, convention centers, arenas, sports stadiums and other public venues.
The logistics of opening up impose an enormous challenge and potential liabilities for businesses. Some of the operational aspects that need to be addressed in any such solution include a number of issues, which many businesses (large or small) have had limited or no experience in dealing with:
How can we ensure safety for our employees? Safety for our customers? Safety for our vendors?

How do I monitor their health on a continuous basis so that they don't pose a risk to others?

How do we think about data privacy, HIPAA, and other regulatory issues?

Where is the intersection of federal/state guidelines and available solutions that can help us address our specific concerns?
As I have said previously, these are unprecedented times and call for solutions that transcend competitive barriers and foster a spirit of collaboration. The exact environment and actions would obviously need to be implemented locally, with different approaches that can account for differences in healthcare infrastructure available or the scale of infected communities etc. With close cooperation and collaboration amongst developers, healthcare providers, private and Govt entities, we are now accelerating an ecosystem of partners incentivized to help countries around the world slow the spread of COVID-19 and accelerate a return of everyday life.
Whether you are a critic or a supporter of this approach, we invite you to join the ecosystem and help us make it better.
---
Now for some news from the world this week:
ConsenSys Acquires Quorum | Quorum, the enterprise blockchain platform developed by mega-bank JPMorgan Chase, is being acquired by ConsenSys, the Brooklyn, N.Y.-based Ethereum venture studio. Additionally, JPMorgan has made an undisclosed strategic investment in ConsenSys, the companies said in a statement. Neither ConsenSys nor JPMorgan would confirm the size of the investment made by the bank. ConsenSys did confirm it was in the process of raising funds and has a range of additional investors joining JPMorgan. In terms of how the acquisition will be integrated into the Ethereum conglomerate, from now on, JPMorgan will be a customer of ConsenSys, which is offering software support and services to projects deployed on Quorum.  All enterprise work being done at ConsenSys will now fall under the new "ConsenSys Quorum" brand, and ConsenSys plans to merge its existing protocol engineering roadmap with Quorum, leveraging the best of both codebases. … Link

China | China's Consortium Chains May Not Be Trusted Internationally, says Vitalik Buterin: The progress of the Chinese government and large enterprises in the blockchain space is impressive. However, according to Ethereum co-founder Vitalik Buterin, they may need to do more than just deploy and build on private or semi-private consortium blockchains to gain traction internationally. In a recent interview, Buterin explained that, while what Chinese entities were doing would help them grow the use of blockchain within China, the technology's best use cases are meant to be implemented on an international level. And for that purpose, it would be difficult for them to gain the trust of other countries to use their private blockchains. … Link

In an international context, you cannot assume that there is even a single government that everyone trusts, whereas public blockchains are more easily perceived as being neutral.

Energy | Blockchain Trading Platform for German Energy Major Uniper: Wipro announced implementation of a blockchain-based small-scale liquefied natural gas (ssLNG) trading platform for Uniper Global Commodities SE, the energy and power commodity trading arm of Germany-based Uniper. The platform employs a consortium model for all ssLNG players to streamline the trading market, which in turn helps traders save costs and brings in more efficiency in the market. The platform includes multiple peer-to-peer trading cycle participants, enables order and supply placement, delivery of goods, validation of the state of goods and bill settlements. … Link

CBDC | Boston Fed Is Looking at '30 to 40′ Blockchain Networks for Digital Dollar Experiments: The Federal Reserve Bank of Boston, one of 12 regional Federal Reserve banks operating under the U.S. central bank, is evaluating more than 30 different blockchain networks to determine if they would support a digital dollar.

What we're doing now really is much more thorough, much more building a platform to see whether distributed ledger can meet the needs of a U.S.-based central bank digital currency. Can it actually function?

For the moment, the research is exploratory and focused on the technology aspects, rather than policy. the U.S. might have a different view on privacy or other issues than other nations do, so the research effort has to consider what privacy measures it can take, as one example.  … Link

Tech | On Blockchain Commit Times: An analysis of how miners choose Bitcoin transactions: In the context of Bitcoin, the conventional wisdom or "norm" is that miners follow a transaction ordering strategy similar to that in the GetBlockTemplate (GBT) mining protocol. GBT uses transaction fees normalized by the size of the corresponding transactions— transaction fee-per-byte, in short—for determining a rank order of transactions for inclusion in the blockchain. We show that this conventional wisdom is not necessarily true. In two separate studies of Bitcoin, the network was found to be congested most of the time and transaction commit times significantly vary due to congestion: While 60% of the transactions are immediately included in a block, 20% wait for at least 2 blocks (or 20 minutes on average). … Link
The Final Word | One Small Step for Bitcoin – SpaceChain Secured Transfer From International Space Station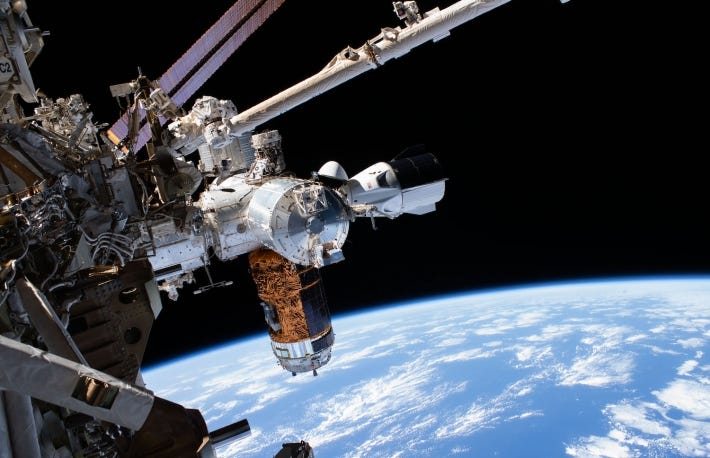 SpaceChain, the U.K. crypto firm with extraterrestrial aspirations, secured a bitcoin transfer with its multi-signature transaction hardware orbiting Earth every 90 minutes. SpaceChain's International Space Station-hosted (ISS) hardware authorized a 0.0099 BTC (about $92 at the time) transfer initiated by Chief Technology Officer Jeff Garzik on June 26, the decentralization company disclosed Tuesday. Developed by GomSpace and installed on the ISS on June 25, that hardware holds a private key needed to verify blockchain transactions via the "multi-signature" technique. Data can only reach the ISS via the craft's encrypted ground station links. SpaceChain says this adds security and resilience to transaction authorizations.
---
About Proteum
Proteum is a global investment and advisory firm that works with public, private and start-up companies to help them transition into the world of blockchains and decentralized applications. We help companies strategically build their ecosystem and unique capabilities so that they can own and control their future. Velocity, our innovation hub, invests in and accelerates the time to market for startups and emerging ideas.
www.proteum.io | info@proteum.io  | Twitter: @proteumio | Velocity