DLT Ecosystem in Spain, Fintech and Crypto Comeback in Real Estate
Off the Blocks | Vol 99, January 28, 2020
At Proteum, we partner with entrepreneurs to develop and deploy innovative products and solutions built around blockchain technology - advising them on building sustainable companies in a rapidly changing investment, regulatory and tech landscape. We are industry and sector agnostic.
---
The below by Beth Kindig, first appeared on MarketWatch on Jan 25, 2020. This piece provides some good insights into the shifting sands of the payments landscape, with Visa's recent $5.3B acqisition of Plaid and Paypal's $4B acquisition of Honey, along with the new kids on the block - Robinhood, Alipay, Square etc. Read along.
When blockchain arrives in fintech, old-line payment processors will feel the pain
Finance is changing rapidly through mergers and acquisitions, but not rapidly enough. There will be tremendous pressure for traditional payment processors to get with the times and adopt blockchain, or else they will be left behind by lower-cost competitors.
Visa V, +0.73% on Jan. 13 said it plans to acquire Plaid, a back-end software company that helps applications connect to user accounts, for $5.3 billion. Plaid's client list includes Venmo, Robinhood and cryptocurrency platforms such as Coinbase. Last year, Mastercard MA, +0.86% acquired Nets for $3.2 billion, to help its move into account-to-account payments, and Vocalink for almost $1 billion.
Those multibillion-dollar acquisitions will help both credit-card companies remain relevant, for now, as non-card payments erode market share.
See: Beth Kindig runs a forum on tech stocks where she recommends stocks and answers readers' questions.
Those price tags barely scratch the surface of what the finance industry is capable of paying, as the industry consolidates to stay competitive. Last year, Fidelity National Information Services FIS, -1.03% acquired Worldpay for $43 billion in cash and stock, Fiserv FISV, -1.27% bought First Data for $22 billion, and Global Payments GPN, -1.65% purchased Total System Services for $21.5 billion.
No benefits to consumers, merchants
The real value to consumers and merchants has yet to be seen. Square SQ, +1.08% may have replaced cash registers, but the fees the company charges are as old-school as ever. Square charges 2.6% plus 10 cents per transaction.
Similarly, PayPal PYPL, +1.01% may have the lead in the U.S. as a fintech platform, though it does little to innovate in a way that lowers costs. In fact, PayPal charges merchants even if a customer is refunded. After acquiring Venmo, the peer-to-peer (P2P) payment app celebrated as a way to send free payments, PayPal continues to charge merchants 2.9% plus a 30-cent transaction fee when collecting from the Venmo app.
From that perspective, Venmo and P2P apps don't really innovate at all, as retailers coughed up a whopping $108 billion in electronic-payment costs last year.
David Ritter, a financial analyst, summed it up well when he said: "Square merchants with low average tickets may fuss over higher costs, but per-transaction fees are typical of alternatives." Meaning: Merchants have no other choice.
Defending market share
This is important because we have not yet seen the true disruption in finance, despite ongoing sprees of fintech deals. Although Visa, Mastercard, PayPal and Square are acquiring tech startups to help maintain their current positions, the purchases will not allow for the kind of growth that makes for meaningful gains.
In fact, Visa's acquisition of Plaid is dilutive and won't be accretive to earnings for an estimated three years.
Blockchain is the answer
According to a recent survey, 75% of consumers have used a fintech service. Of those, competitive fees and rates are their top priority. In addition, 68% of consumers are willing to try a financial proposition from a non-financial company, which is a risk to incumbents.
Two examples of companies that are innovating to lower prices in fintech include Robinhood and Alipay. Both took major market share by simply lowering prices. Robinhood allows for free stock trades, while Alipay charges merchants 0.55%, compared with the typical 3% charged by credit-card companies.
This resulted in Alipay quickly growing to 1 billion users since launching in 2008. Compare that to PayPal's PYPL, +1.01% 275 million users in 20 years since its 1998 launch. Alipay is the kind of growth you want to see as an investor. Tencent's TCEHY, +0.17% WeChat has also crossed the 1 billion user mark with many using WePay.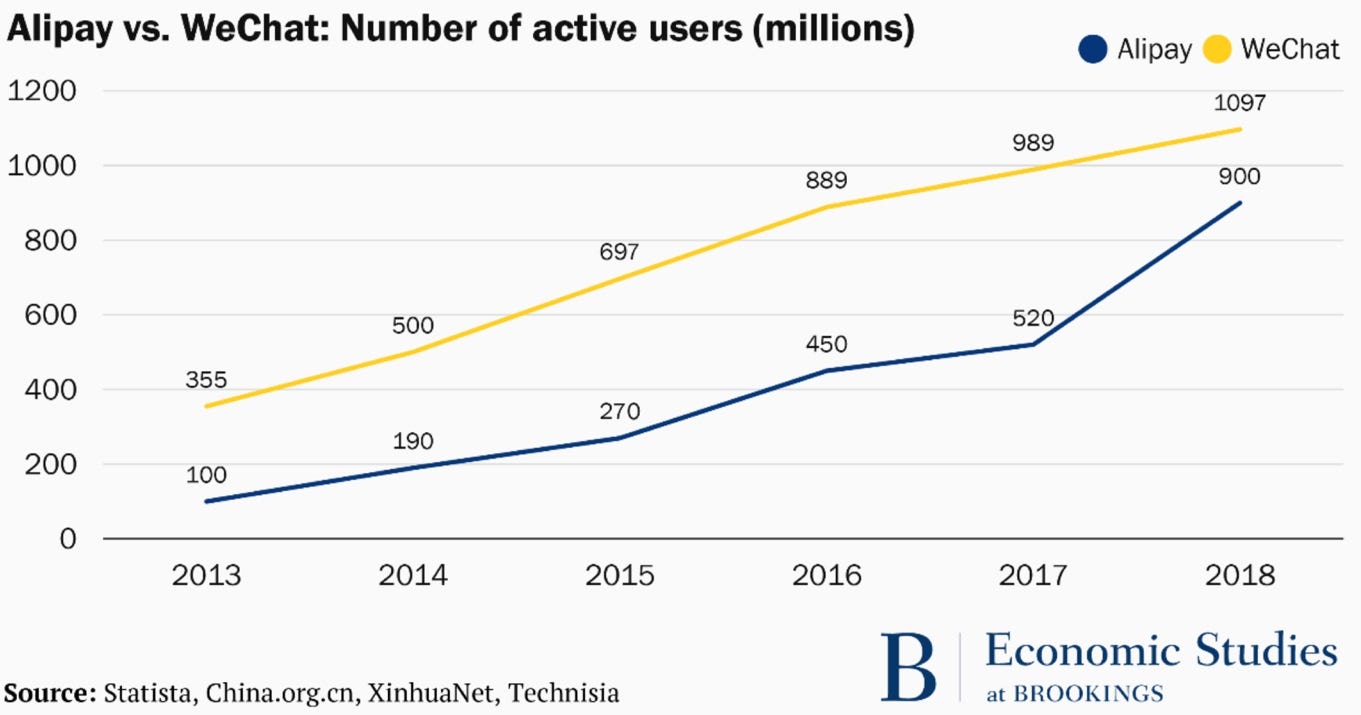 In fact, digital payments are so wildly successful that the People's Bank of China has had to forbid discrimination against cash by merchants who will accept only digital payments.
According to some estimates, the savings in merchant fees could be as much as $43 billion if the United States had third-party payment apps such as Alipay and WePay. That is because for every $100 spent on a credit-card purchase, $2.20 goes to the issuing bank, 23 cents to a payment processor, 19 cents to the acquiring bank and 13 cents to the card network.
Meanwhile, PayPal's $4 billion acquisition of Honey, which helps users discover rewards and deals while shopping through a browser extension, is in sharp contrast to the fintech companies in China that have lowered fees. The PayPal-Honey acquisition is meant to drive the same type of higher payments from customers as do many of PayPal's other acquisitions, such as Braintree, Xoom and Hyperwallet. That strategy places an easy target on PayPal, as new blockchain startups gather strength.
Deploying blockchain systems will remove third-party centralization networks for small to medium-size businesses in lieu of peer-to-peer networks. While there is debate about the viability of bitcoin BTCUSD, +1.40%, blockchain is very much a reality, and can be secured by so-called stablecoins if merchants prefer to be backed by the national currency.
Interestingly enough, banks are leading the way with blockchain. J.P. Morgan Chase JPM, +0.73% has been working on a blockchain system since 2015. It revealed JPM Coin in 2019, a stablecoin tied to the U.S. dollar. PayPal, Square, Mastercard and Visa are also pioneering blockchain projects.
As developers of the blockchain system have pointed out, the ultimate goal is to have JPM Coin connect private ledgers to a public blockchain. These developers believe that would put major pressure on other financial institutions and fintech companies in about five years.
Digitization in the finance industry is built atop age-old infrastructure and ignores the most obvious area in need of disruption: transaction fees. Visa and Mastercard are making acquisitions to remain relevant and competitive, while PayPal and Square are getting on more devices with peer-to-peer apps such as Venmo and Cash App.
Those moves won't lead to massive growth. An overhaul of the infrastructure via blockchain will take some time, and only then will investors enjoy serious investment returns.
The writer owns no shares of companies mentioned in this article.
Beth Kindig is a San Francisco-based technology analyst with more than a decade of experience in analyzing private and public technology companies. Kindig publishes a free newsletter on tech stocks at Beth.Technology and runs a premium research service.
---
Now some significant news from the world this week:
Spain | Proteum is Helping Build a Blockchain Ecosystem in Catalonia: The Catalonia Trade and Investment Commission and the Generalitat de Catalunya (Regional Govt. of Catalonia) published a technological report on the state of blockchain and DLT in Catalonia, Spain. The report identifies trends, analyses some recent applications by demand, blockchain investments and interestingly looks at the global blockchain patent market. It is rich in information and Barcelona is surely a hub to watch for when it comes to blockchain projects. The report also features Proteum as a vibrant player in building the local ecosystem and bridging it with the silicon valley.

Crypto | 'Gram tokens Are Not Securities', Blockchain Association Tells SEC: The Blockchain Association has filed an amicus brief against the US Securities and Exchange Commission (SEC), which is currently seeking charges against Telegram for its $1.7 billion ICO, arguing that Gram tokens are not securities. The Blockchain Association, which aims to be a "unified voice" for the blockchain and cryptocurrency industry, is a collective of industry leaders with a focus on American blockchain technology issues. Members include Coinbase, eToro, Grayscale, Circle Pay, Ripple, Kraken, and more. In November 2019, the association formalised a working group for blockchain companies to understand securities laws. [… Read More on Yahoo!]

Payments | Shopify Plugin Uses Blockchain For Authentication: A startup in San Francisco called the Real Items Foundation has developed a plugin for Shopify that will use blockchain technology to make sure items being sold on the site are authentic. When a customer buys an item, they can scan it if it has an NFT to make sure of its authenticity. David Menard, CEO and founder of Real Items Foundation, said a number of companies are beta testing the plugin, and it will be officially released this year. [… Read More on PYMNTS]

Storage | Hacker Noon Is Storing Content on a Blockchain After Ditching Medium: Hacker Noon is putting its money where its pen is, embedding blockchain features into its new publishing platform. Annotations on Hacker Noon's blog-style content, with some four million monthly readers, will now be locally hosted on users' spare storage space, said Hacker Noon CEO David Smooke in a press release. These annotations and in-line comments will be powered by ERA Inc.'s GUN, a decentralized peer-to-peer (P2P) database system. By utilizing local storage on Hacker Noon reader's free CPU space, the cost of maintaining the domain drops on GUN specifically. Both firms are working towards further blockchain feature integrations in the near future as well but declined to comment on what this included. [… Read More on Yahoo! Finance]

Blockchain technology can distribute the hosting cost of running a site like ours, where people spend over 25 million minutes reading each month.

- David Smooke, CEO, Hacker Noon

Currency | Regulated Fintech Firm Monerium to Issue E-Money on Algorand Blockchain: Iceland-based Monerium, which has a European Economic Area (EEA) e-money license, has entered into a non-exclusive partnership with Algorand. Announced Tuesday, the deal will see the two companies collaborate on developing "real-world use cases that are enabled by advanced blockchain technology" using Monerium's "programmable" e-money.

Algorand incorporates key features for many mainstream use-cases, including stateless smart contracts and scaleable proof-of-stake consensus. The Algorand leadership has taken a pragmatic and deliberate approach in designing a blockchain for mainstream applications while staying close to the ethos of the open source community.

- Sveinn Valfells, co-founder and CEO, Monerium
The Final Word | A $134 Million Building in Zurich Has Sold Via Cryptocurrency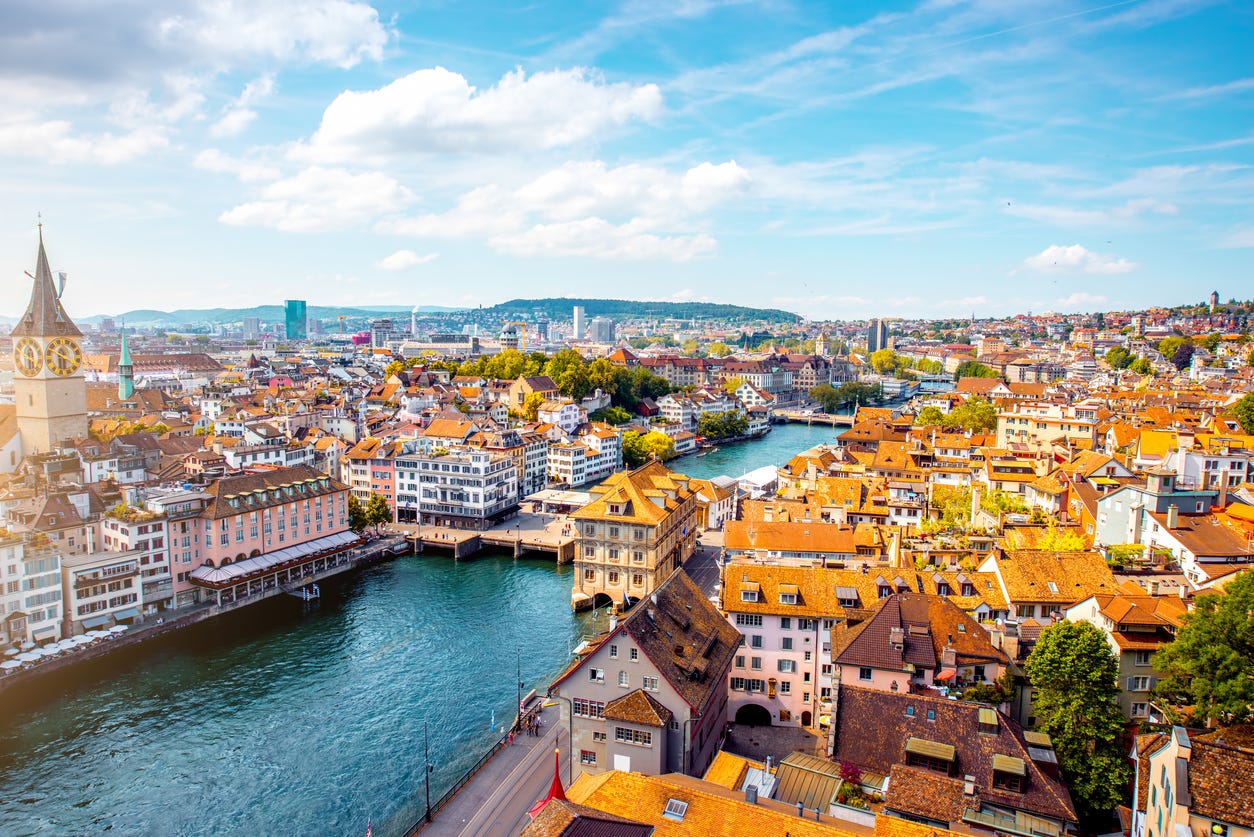 Last week, as Swiss outlet SWIreported, Zurich real estate investment firm BrickMark bought a majority stake in Bahnhofstrasse 52, a property on "one of the world's exclusive and most prestigious luxury shopping boulevards," according to a press statement. To complete the deal with real estate investment group RFR Holding, known for purchasing the Chrysler Building in 2019, BrickMark partially completed the sale by creating and issuing proprietary BrickMark tokens based on the Ethereum, a type of cryptocurrency blockchain protocol.
With these tokens representing a reported 20% of the roughly $134 million transaction, BrickMark's acquisition of the property now registers as the largest blockchain token–based real estate transaction in history.
We are breaking new ground for the real estate industry. There has never been a token-based real estate transaction of this magnitude.

- Stephan Rind, CEO, BrickMark
---
About Proteum
Proteum is a global blockchain investment and advisory firm that works with public, private and start-up companies to help them transition into the world of blockchains and decentralized applications. We help companies strategically build their ecosystem and unique capabilities so that they can own and control their future. ProteumX, our accelerator program, invests in and accelerates the time to market for startups and emerging ideas based on blockchain solutions.
www.proteum.io | info@proteum.io | Twitter: @proteumio | ProteumX