FDA, Universities & Soccer Clubs Squeeze Into Blockchain
Off the Blocks | Vol 66, May 7, 2019
This newsletter is our weekly roundup of some of the significant blockchain news, that provides an overview of the rapidly changing blockchain landscape to help you map your blockchain strategy and be aware of regulatory announcements globally. Get your friends to Subscribe Here.
---
Stakeholders, Innovation and Blockchain Technology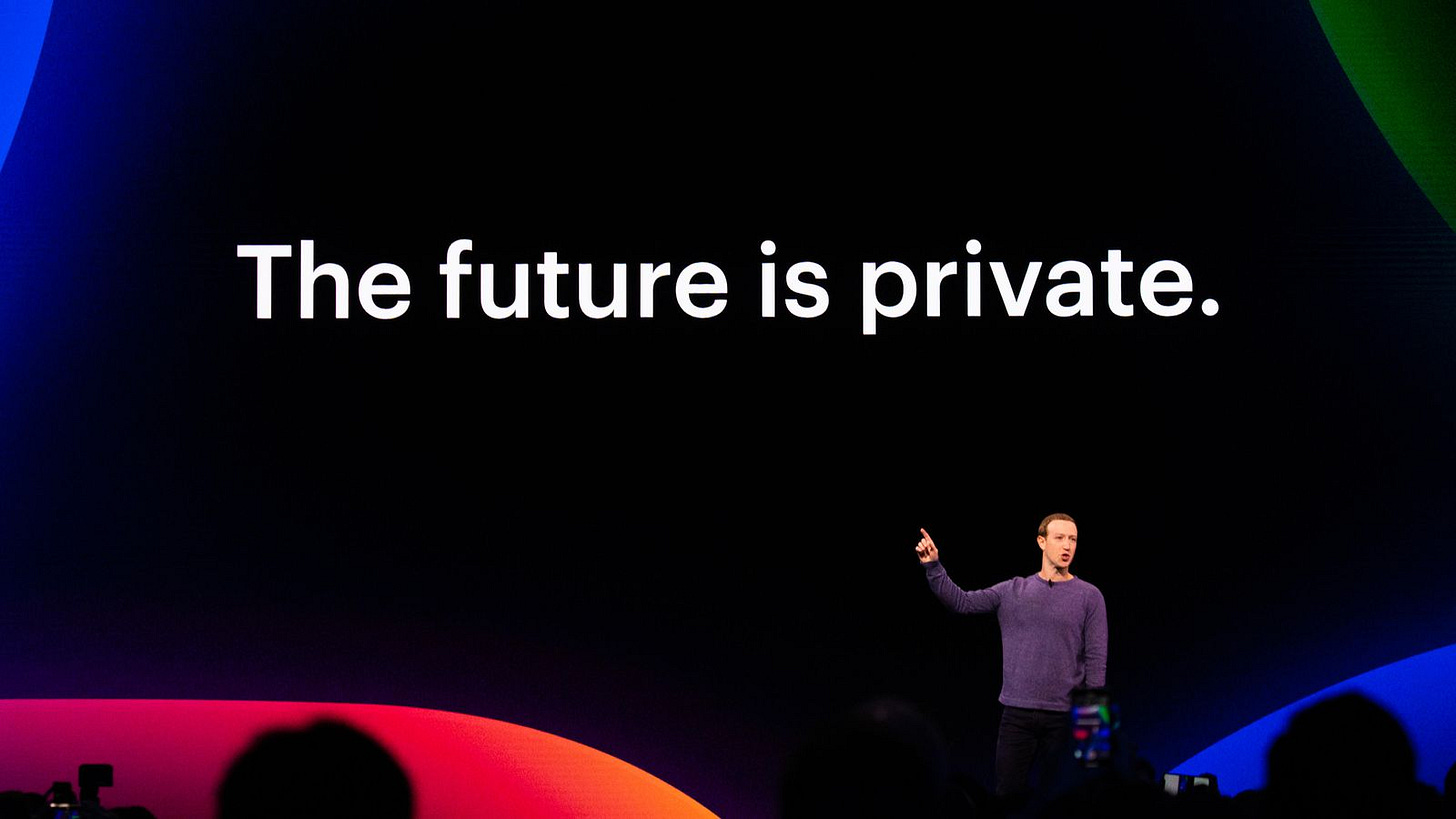 The Future is Private.

- Mark Zuckerberg, Founder, Facebook
This was an amazing admission from the founder of Facebook, a company that has encouraged public sharing of information since its inception. The social network started as a closed network, only accessible to students in a select few universities. Its strategy was to onboard universities in a piecemeal fashion, providing access to students in a controlled environment. It was carefully able to tweak user experience, incentivize sharing (likes), and create a whole new way for people to communicate - publicly. Privacy was not only unnecessary in the world, it was to be shunned for Facebook to grow. In 2009, Facebook admitted that they had made a lot of mistakes in launching Beacon - a feature that tracked user activities everywhere (outside of Facebook) on the internet. The company has since always played hooky with user data and privacy concerns. Here is a timeline of Facebook's privacy issues from 2006 - 2018.
So what changed in the last week?
Blockchain. It has been brewing up for a while now and the times they are a-changing.
So far, startups and companies like Facebook have focused on finding a "Product-Market Fit" to help them grow and thrive. Often this focus has come at the expense of the actual stakeholders in the business. Arguably, in Facebook's case, the actual stakeholders are the users themselves, for it is their data that is being commercialized by the company. However, these users are entirely left out of the monetization process. Traditionally, the concept of catering to stakeholders has been an afterthought - much like Facebook's belated realization now that the future is private.
This means that the business model has to change - the ad based model and privacy are mutually exclusive. If a company's revenue is dependent on selling user information, they can't simultaneously protect their privacy. If stakeholders are to be empowered, they need to have a direct participation in the financial gains accruing from the business model. With their new $1B crypto initiative to build a fiat pegged stablecoin for financial transactions, the company may well be moving in that direction. To align it with Whatsapp, a privacy centric communications platform hints at the broader direction the company's business model is shifting towards.
Similar shifts in business models are playing out elsewhere in completely orthogonal industries. There is a renewed emphasis on empowering the stakeholders directly. For example, Jaguar Land Rover inked a deal with IOTA, a blockchain platform for connected devices, to incentivize drivers to earn crypto while driving. Drivers earn rewards in exchange for sharing data about "useful road [conditions]…such as traffic congestion or potholes." The information is shared with navigation providers and local authorities to improve the the virtual and physical driving experience. It is early days, but directionally, it is clear that stakeholder incentives will drive new business models. There are learnings in this on how Uber and Lyft can incentivize their stakeholders, both drivers and passengers, instead of subsidizing rides.
Verification of personal identity and credentials is another huge industry where the stakeholders have completely been left out of the $10B+ market dominated by third parties. Students, employers, government agencies continue to rely on third parties to be able to verify personal identity and match it with information and credentials earned. With blockchain technology it is now possible to give control over such information back to the earners of the credentials. For example, universities can now issue digital credentials to students that can be transparently verified on a blockchain without any third party involvement (see below for Singapore's initiative in this). In this model, the stakeholders - both issuers and receivers - are empowered to issue, share and limit access to credentials. These systems are built on the idea of privacy and shifting control of information back to the owners of the information itself.
Incentives for stakeholders will be at the heart of business models built on a blockchain first premise and will be almost as important as the traditional product-market fit.
---
Now for some other significant news form the world this week:
Food and Drugs | FDA to Pilot A.I., Consider Blockchain, To Track and Trace Food: The Food and Drug Administration (FDA) announced a "new era of smarter food safety" under which it will test artificial intelligence and machine learning to better assess food-borne illness risks from imports and explore blockchain for tracking all foods before they hit grocery store shelves. The agency's latest moves are part of an effort to standardize and implement "new and emerging" technologies in food tracking systems in accordance with the Food Safety Modernization Act (FSMA) of 2011, which vastly expanded FDA oversight, including giving it recall authority. FSMA was the direct result of a number of food-borne illness incidents during the 2000s. [… Read More on Computer World]

We're at this inflection point in society where many of these technologies emerging have been used in the private sector around us and now we're looking at what role they can play to help us address some of the remaining health challenges that we have. For blockchain, the area that jumps out at me most quickly is the role it could play to enhance tracking and tracing food.

- Frank Yiannas, FDA deputy commissioner for Food Policy and Response.

e-Commerce | Rakuten Partners With Blockchain Traceability and Rewards Companies: Fake goods are a significant issue in China. Techrock is addressing the issue by attaching NFC smart packaging to every product. Using the tag the goods are authenticated along the supply chain, and the actions are logged on a blockchain. The products are available in offline retail outlets as well as through the dedicated WeChat store. Rakuten, Japan's largest e-commerce company, has partnered with Techrock which runs a China-based e-commerce store which only provides authenticated products. The deal enables Chinese customers to purchase from Rakuten via Techrock. [… Read More on Ledger Insights]

Fintech | China's Ubiquitous Digital Payments Processor Loves The Blockchain: China's government is no fan of cryptocurrency. It has banned cryptocurrency trading and initial coin offerings, and may even kill off its massive crypto-mining industry. On the other hand, it's supported the development of applications based on the blockchain technology that underlies digital currencies like Bitcoin. That's helped trigger an explosion of blockchain-related projects in the country. Leading the way is Ant Financial, the biggest financial technology company in the world by value. The firm, which in 2018 was valued at $150 billion, has developed a proprietary blockchain platform. Alibaba was the world's leader in patents amassed in 2018, just ahead of IBM. Ant Financial is already using the technology to support several applications: one that tracks charity donations (around $50 million so far), one for tracking physical items like components of a supply chain, and a third that facilitates rapid cross-border payments in Asia. It's also building a blockchain-based platform for international trade finance. [… Read More on MIT Tech Review]

Education | Singapore to Issue Graduate Certificates on Blockchain: Students from 18 educational institutions in Singapore will receive blockchain-based digital certificates starting in 2019. The initiative is a part of a Singapore government-level project called OpenCerts, which was co-developed by the Ministry of Education (MOE), Government Technology Agency (GovTech), as well as national educational movement SkillsFuture Singapore (SSG) and higher learning institution Ngee Ann Polytechnic (NP). Powered by the Ethereum (ETH) blockchain, the OpenCerts open-source platform is expected to provide a reliable way to issue and verify certificates, boost the security of data, the efficiency of issuance and validation processes, and reduce costs associated with traditional paper certificates. [… Read More on CoinTelegraph]

The platform's adoption removes two important requirements such as the need for a physically leveraged document and the need for verification requests.

- Patrice Choong, Director, Ngee Ann Polytechnic

Tech | J.P. Morgan and Microsoft Announce Strategic Partnership to Drive Enterprise Adoption of Quorum J.P. Morgan and Microsoft Corp. announced they have signed a memorandum of understanding to form a strategic partnership to accelerate the adoption of enterprise blockchain. Through this partnership, Quorum, developed by J.P. Morgan, will become the first distributed ledger platform available through Azure Blockchain Service, enabling J.P. Morgan and Microsoft customers to build and scale blockchain networks in the cloud. In addition to providing a platform for Quorum customers to build blockchain networks and applications, Quorum will continue to power J.P. Morgan and Microsoft blockchain programs and first-party apps, such as the Interbank Information Network, JPM Coin and Microsoft's Xbox royalty payment process, among others. [… Read More on Microsoft]
The Final Word | West Ham Goes Crypto: English Soccer Club Launches Fan Token on Blockchain
Image Source: CCN
English Premier League soccer team West Ham United turns to blockchain to launch its own token. The "fan token," powered by Socios.com will allow West Ham's 40 million supporters to vote on club decisions and gain access to exclusive rewards. The fan token initiative has already been adopted by Juventus and Paris St. Germaine. Launching in time for the 2019/2020 season, fans will be able to buy, collect, and "hunt" for the fan tokens. The more tokens they collect, the more influence they have over club decisions. Fans can also cash in their tokens for "once-in-a-lifetime experiences." The West Ham tokens will be issued by blockchain platform Socios.com and tradable against the platform's native cryptocurrency ChiliZ (CHZ). [… Read More on CCN]
A first-of-its-kind mobile app for football fans, where fans acquire the ability to vote – by buying, earning or hunting for Fan Tokens – on selected club decisions, earn club rewards and compete for once-in-a-lifetime experiences.
---
About Proteum
Proteum is a global blockchain advisory firm that works with public, private and start-up companies to help them transition into the world of blockchains and decentralized applications. We help companies strategically build their ecosystem and unique capabilities so that they can own and control their future. ProteumX, our accelerator program, invests in and accelerates the time to market for companies building blockchain solutions.
www.proteum.io | info@proteum.io | Twitter: @proteumio | ProteumX