Goodbye Hollywood Accounting, Indonesia's Democracy and Crypto Loans Spike
Off the Blocks | Vol 69, May 28, 2019
This newsletter is our weekly roundup of some of the significant blockchain news, that provides an overview of the rapidly changing blockchain landscape to help you map your blockchain strategy and be aware of regulatory announcements globally. Get your friends to Subscribe Here.
---
Goodbye Hollywood Accounting?
Everyone knows that Hollywood is the epitome of creativity. The penchant for creativity extends beyond the actors, directors, cinematographers, set designers etc. However, the unsung heroes of Hollywood creativity so far have perhaps been accountants. Yes, studio accountants. In the late 1980s, when Art Buchwald sued Paramount Pictures, it was revealed that the film "Coming to America" grossed $350M at the box office, yet failed to show a profit. For the younger readers, consider the 2002 hit film "My Big Fat Greek Wedding". Reportedly, it cost about $6M to make and did a reasonable business of about $600M at the box office - yet managed to lose $20M. For the still younger readers, "Harry Potter and the Order of the Phoenix" managed to lose $167M after grossing $938M at the box office. In all these cases (and many more) the creativity of the accountants is front and center.
The basic mechanism is easy: the studios set up every film as a separate entity and overload the entity with "expenses and fees". Simple. The studio still gets to make money, but the losses are accrued to all the "equity holders" and the "profit participants" up and down the chain. Ideally this should not be a problem, but the contractual agreements are all opaque and provide limited transparency to the investors or other contracted parties. As a result these investors often end up losing money, even when the film is a blockbuster at the box office.
If these film projects were funded as silicon valley startups, the investors would make a return time a film turned profitable. Taking "My Big Fat Greek Wedding" as an example, the returns would be comparable to a unicorn exit in a much shorter time frame and a promised cash flow for the lifetime of the film asset. On any day, gaining access to studios and projects looking for funding is a challenging prospect. Gaining a return on that investment is a whole different ballgame.
Prior to blockchain technology, this would be wishful thinking. Today, it is not only fathomable, but the creativity behind Hollywood accounting is now creating a new transparent asset class for investors mostly uncorrelated to other market conditions.
Proxicoin - a new startup that just announced a $100M funding to use blockchain technology to power both the investment and the consumer chain part of the entertainment business. Proxicoin is the first security token that allows investors to invest in studio quality film and TV slates. Proxicoin allows fractionalized ownership in film, television, music and other IP-driven content where every day qualified investors can, for the very first time, participate in the Hollywood industry in a capacity previously available only to large, elite institutions. [Full Disclosure: Proteum is an advisor and investor]
Proxicoin holders will also be partial owners of Entertainment Stock X (ESX), an innovative platform operating similar to a stock exchange for financing entertainment projects. It utilizes Regulation A of the JOBS Act allowing each film or TV show to undergo an IPO, providing liquidity for each production through aftermarket trading. ESX takes advantage of the booming global demand for content while helping fill the need for new, efficient sources of financing for filmmakers. There are only 57 recognized trading platforms worldwide, making this a unique and highly sought-after asset. Currently the trading platform has deals for listings on over 30 major feature film projects and is expected to have a significant share of the 600 major films and television shows shot annually.
This is a game-changing moment for the entertainment industry. Proxicoin makes a highly sought-after financial product available to many individual and smaller investors. Film, as an asset class, is traditionally uncorrelated to capital markets and has been a competitive and sought-after asset class among the large hedge funds and banks. During the Great Depression one of the only stocks that went up was MGM.

- Vincent Tse, CEO, Step Ventures.
---
Now for some other significant news form the world this week:
The Final Word | Crypto Loans Spiked 4x During NYC Blockchain Week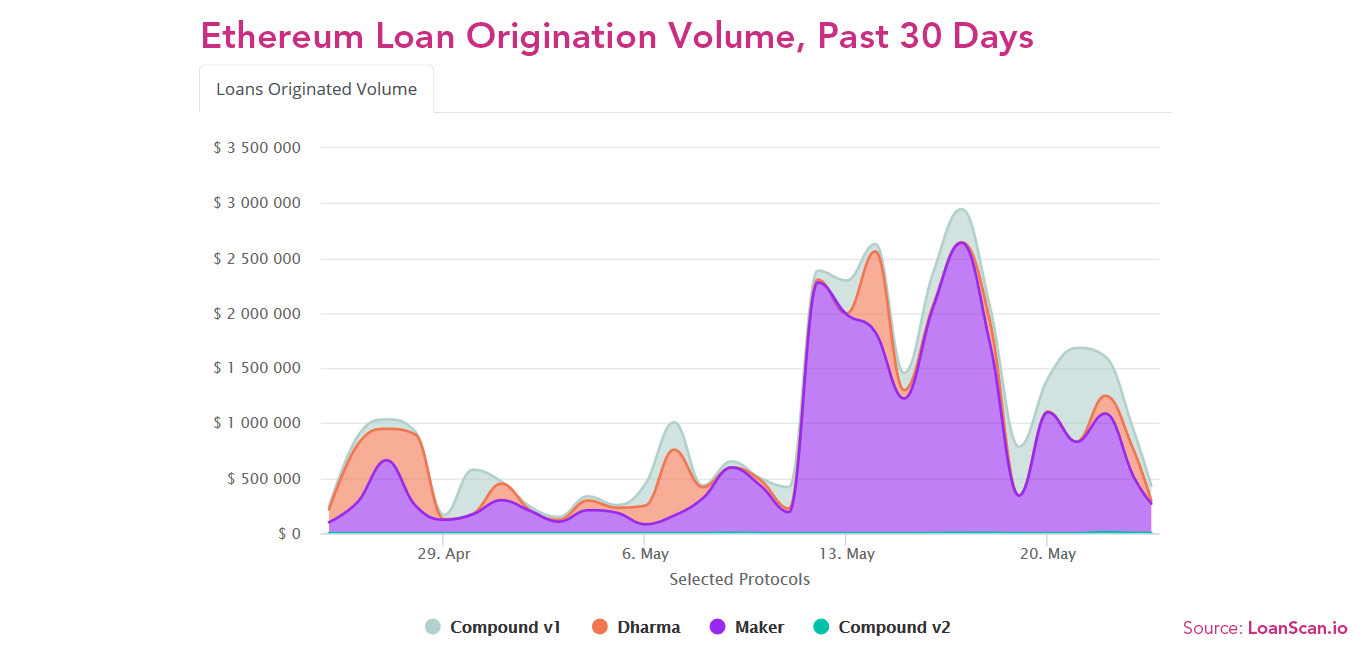 The recently concluded New York City Blockchain Week brought together thousands of attendants and speakers across dozens of events. In addition to promoting ideas, this year's Blockchain Week may have also promoted adoption in the field of cryptocurrency loans. 6,500+ loans were issued in the past 30 days, totalling over $31 million USD. On May 13, the amount of loans originated on Dharma's platform skyrocketed to its highest value this month, at around $735,000 USD. This marks an increase of around 2,127% since the first day of Blockchain Week on May 10. Incidentally, May 13 was also the day that Dharma's co-founder and CEO, Nadav Hollander, was on a panel at Consensus on the topic of decentralized finance. Compound experienced the least drastic change during Blockchain Week, with loans on the platform increasing around 54% to around $301,000 USD on May 12, according to LoanScan. However, three days after the event concluded, on May 20, loans on Compound's platform reached nearly $851,000 USD. [ … Read More on Longhash]
---
About Proteum
Proteum is a global blockchain advisory firm that works with public, private and start-up companies to help them transition into the world of blockchains and decentralized applications. We help companies strategically build their ecosystem and unique capabilities so that they can own and control their future. ProteumX, our accelerator program, invests in and accelerates the time to market for companies building blockchain solutions.
www.proteum.io | info@proteum.io | Twitter: @proteumio | ProteumX