Mexican Crypto Boom, Bank of England, and USPS Patents Blockchain Voting
Off The Blocks, Vol 122, Aug 18, 2020
The COVID-19 pandemic is still amongst us and shows no signs of life returning to normalcy anytime soon. We are working with our partners, clients, and portfolio companies, creating strong ecosystems for their mutual growth. Simultaneously, we are trying to resolve some of the most complicated and challenging issues to create a trusted environment for people to go back to work and get the economy back on its feet. You can read about our efforts in a 4 part series here. To be a part of the solution, reach out.
---
Bitcoin Vs Ethereum with Samson Mow & Vitalik Buterin
Both Bitcoin and Ethereum bring out wild passions amongst their supporters. Depending on the order of the day and topic at hand it can lead to amazing conversations or cascading made for Twitter rabbit holes of blowbacks that feel good at the moment but lead nowhere. Every once in a while though, a good conversation bubbles up and bridges our understanding of the two widely disparate, but equally important co-existing communities that are trying to change the character of financial markets as we know them. One such conversation happened last week that goes to heart of the philosophical differences between the two most widely used crypto communities.
The below podcast first appeared on What Bitcoin Did on Aug 16, 2020.
The Bitcoin community can be a very hostile place, in an industry that has more than its fair share of scams and questionable projects it often falls at the feet of Bitcoiners to call them out.
In many ways, Ethereum is the antithesis of Bitcoin. Whereas Bitcoin is slow and conservative in its goals and development, the ethos of Ethereum is to 'move fast and break things'. These philosophical differences often lead to fiery debates between the two communities.
Over the past few days, a new debate was sparked by the seeming inability to verify the total supply of Ethereum. Supplygate has divided the two communities again with many Bitcoiners believing that the ability to audit the supply should be one of the fundamental principles of a money system. With Bitcoin, it is the monetary policy which gives it value over fiat, therefore having a fixed supply and the ability for anyone to run a node and audit the supply is critical.
Believers in Ethereum argue that Ethereum's value proposition is different and that difficulty of getting consensus around the total supply is not a significant issue.
___________________
Below is the actual conversation - Vitalik's comments provide a good framework to understand the recently exploding Decentralized Finance (DeFi) applications that are popping up everywhere. I chose not to highlight any particular quotes, but it is worth listening to and making up your own mind.
---
Now for some news from the world this week:
Markets | Blockchain Can Boost Private Market Liquidity Amid The Pandemic: The pandemic has spurred firms to address pain points in various markets through digital shifts. As tZERO has estimated, there are half as many public companies listed on public exchanges as there were at the end of the 1990s: 4,000 firms today compared to 8,000 then. The multiples investors will pay for public companies tend to be lower than those given by private investors, as measured from Series A funding rounds all the way through initial public offerings (IPOs). The implication is that private investors could realize better returns on their holdings … if only they had access to those investments in the first place. The problem? The private markets are relatively opaque, and relatively less liquid than might be seen on public exchanges. … Link

Bitcoin | Bitcoin Holding Sentiment Strongest in Nearly Two Years: Bitcoin exchange reserves have fallen to a 21-month low, a possible sign investors are feeling bullish about the shape of the market. Glassnode data shows the number of bitcoins held in exchange addresses fell by 0.83% to 2,610,278 BTC on Monday – the lowest level since Nov. 24, 2018. Investors tend to move digital assets from their wallets and onto exchanges when they lose confidence in the current price movement so they can easily sell them. … Link

Mexico | The Quiet Crypto Boom: In the eight months between September 2019 and May 2020, the trading volume of Mexico's leading crypto exchange, Bitso, grew by 342%, according to the exchange. Earlier this year, Bitso announced it had surpassed 1 million users on its platform, of which 92% are Mexican. For comparison, there are 35 traditional brokerages in the country with under 400,000 active trading accounts in total, according to Mexico's financial authority, CNBV. In August 2019, right before Bitso's trade volume began its dramatic climb, the government began implementing new fintech laws that sought to govern financial service providers in the banking and private capital sectors, from entrepreneurs to crowdfunding institutions. … Link

It is truly shocking because we are seeing how only one cryptocurrency exchange has demonstrated greater potential than 35 dedicated investment management entities.

- Eloisa Cadenas, CEO, CryptoFinTech

Metals | Mitsubishi Launches Blockchain Platform for Metal Trading: Track and trace applications utilizing blockchain continue to gain traction and find enterprise support. The metals and minerals resource trading subsidiary of Mitsubishi Corporation, Japan, has launched a blockchain platform named ECO for precious metals trading. Developed by Mitsubishi in partnership with the American blockchain company Skuchain, the platform is built on top of Skuchain's EC3 platform for blockchain-based supply chain management and finance. Using the ECO platform, trading parties will be able to sign trade documents and upload them on the blockchain. They can then share the signed documents with others in real-time and hide any commercially sensitive information that they do not want to reveal. … Link

CDBCs | Bank of England Joins Key Roundtable on Central Bank Digital Currency Design: The Bank of England will take part in a key meeting tomorrow to discuss central bank digital currencies (CBDCs) and their possible infrastructural designs.  Hosted by global central banking think tank, the Official Monetary and Financial Institutions Forum (OMFIF), on Aug. 19, the roundtable will involve the BoE's senior fintech specialist, Simon Scorer, alongside delegates from the Swiss National Bank, ING Nederland and the Hungarian National Bank (Magyar Nemzeti Bank). A key focus of the meeting will be to tackle the ways in which blockchain technology can benefit various models for CBDCs. This includes the use of smart contracts — e.g., as with designs for "programmable money" — and models for interoperable blockchain networks both within and beyond national borders. … Link
The Final Word | The US Post Office Files a Patent for a Blockchain-Based Voting System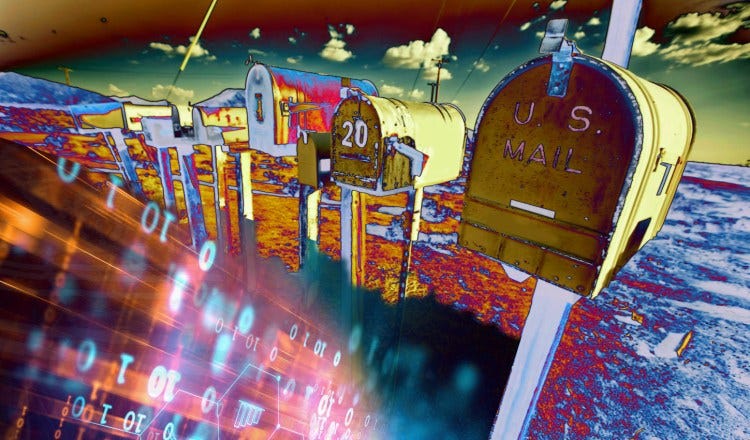 Image Source
In February 2020, the United States Postal Service (USPS) filed a patent for a mail-in voting system that utilizes blockchain technology. Some excerpts from the patent:
A voting system can use the security of blockchain and the mail to provide a reliable voting system. A registered voter receives a computer-readable code in the mail and confirms identity and confirms correct ballot information in an election. The system separates voter identification and votes to ensure vote anonymity, and stores votes on a distributed ledger in a blockchain.
Voters generally wish to be able to vote for elected officials or on other issues in a manner that is convenient and secure. Further, those holding elections wish to be able to ensure that election results have not been tampered with and that the results actually correspond to the votes that were cast. In some embodiments, a blockchain allows the tracking of the various types of necessary data in a way that is secure and allows others to easily confirm that data has not been altered.
Click here to read the patent application
---
About Proteum
Proteum is a global investment and advisory firm that works with public, private and start-up companies to help them transition into the world of blockchains and decentralized applications. We help companies strategically build their ecosystem and unique capabilities so that they can own and control their future. Velocity, our innovation hub, invests in and accelerates the time to market for startups and emerging ideas.
www.proteum.io | info@proteum.io  | Twitter: @proteumio | Velocity