On Payments, Healthcare & Nike's CryptoShoes
Off the Blocks | Vol 96, December 17, 2019
At Proteum, we partner with entrepreneurs to develop and deploy innovative products and solutions built with blockchain technology - advising them on building sustainable companies in a rapidly changing investment, regulatory and tech landscape.
---
Coming Back to Life
I have been traveling for a little more than a month, primarily in Europe and India, to check the pulse on blockchain adoption and gain a fresher perspective as the technology rolls out globally. All said, it feels good to be back home in Silicon Valley, which I believe will continue to be a dominant player in the ecosystem. To avoid recency bias, I have held off putting together my thoughts until now.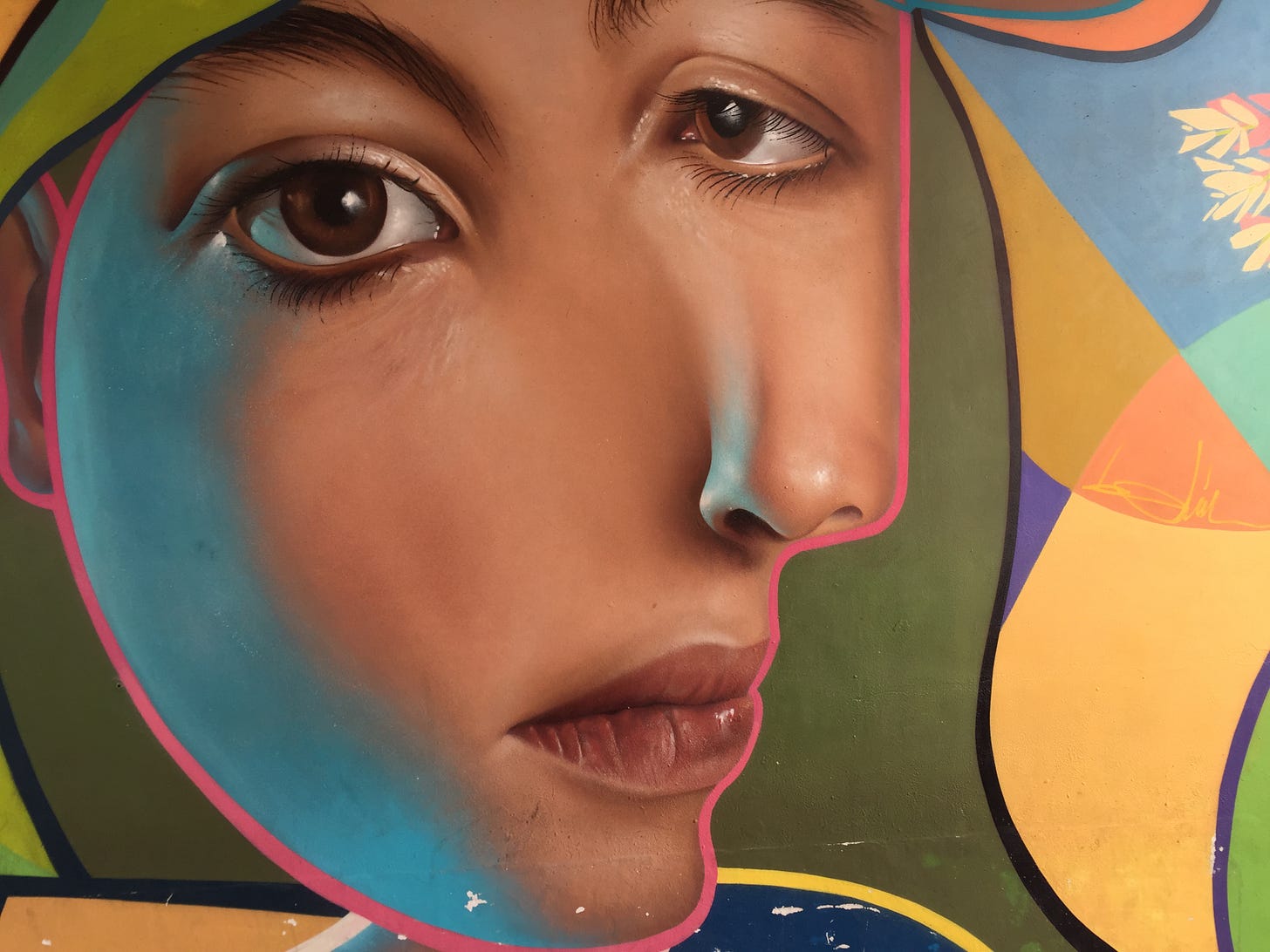 Image: A mural outside El Pimpi, in Historic Malaga
2019 has been a phenomenal year for the growth and adoption of both crypto and blockchain projects worldwide. An added bonus was the disappearance of "blockchain tourists". Across the globe at conferences, there has been a noticeable thinning of the crowds. The dabblers are long gone and in the wake, there remain some very serious players who are not only ushering in business models that tackle problems that have long plagued various industries - whether in healthcare, information systems, and financial markets, but also creating novel solutions for media, sports, and entertainment, etc. that would not have been possible without blockchain technology. Ironically, many of the problems in traditional industries have been created by the roll-out of technology that did not have the foresight to align incentives in a globally connected, decentralized world order.
This is beginning to change now. Twitter recently announced that it is funding a team to develop an open and decentralized standard for social media.
Twitter is funding a small independent team of up to five open source architects, engineers, and designers to develop an open and decentralized standard for social media. The goal is for Twitter to ultimately be a client of this standard. 🧵
2.5 quintillion bytes of data is created everyday. Centralized platforms simply cannot enforce content recommendation and moderation at a global scale - the early experiments have utterly failed as platforms refuse to give up their proprietary, walled garden approach to data and users. A one-dimensional approach has long masqueraded as "global, AI platforms" that are highly unlikely to be aware of local regulations, compliance requirements or even cultural, behavioral and trust patterns.
So, it was refreshing to be talking about these issues at Convergence - The Global Blockchain Congress in Malaga in early November 2019. An important question raised in the Congress was about leadership when it comes to standardizing blockchain technology. How does one think about creating a coordinated approach, given that startups and individuals can have an outsized influence on the development of technology itself? The below Twitter thread captures the essence of my thoughts on the subject. (click to read the entire thread)
While talking about standardization, most people tend to confuse it with regulations. While the two are interconnected the difference lies in compliance. Standards are not mandatory, but regulations necessitate compliant behavior. The state of development within the blockchain ecosystem at present requires regulators not to import standards into their agendas and let the technology flourish. For example, there are enough regulations within the financial services industry to deter money laundering. Impeding blockchain applications by adding an extra layer of compliance may not be the best way to encourage innovation.
Within the EU, it is great to see the rise of organizations such as the International Association for Trusted Blockchain Applications (INATBA) that are encouraging a dialog between developers and regulators. As discussed above, a centralized regulatory approach is bound to falter and it is imperative to develop sector-specific guidelines and specifications for the development and acceleration of trusted blockchain applications. I would watch this space closely.
---
Now some significant news from the world this week:
Payments | China's Blockchain Network Taps WeBank For Technical Infrastructure: Tencent's WeBank, which is a digital bank in China that provides loans to individuals and small businesses, will be the technical infrastructure provider for China's national blockchain network. The blockchain network is called the Blockchain-Based Service Network (BSN), and it uses open consortium chain FISCO BCOS. The network is not comprised of a single blockchain, but rather the consortium is a set of blockchain applications meant to aid the public. The BSN is made up of 14 members, and it was launched last week. It will work on developing and operating the blockchain-based applications that will reside in the network, with each member contributing knowledge in their respective fields. Consortium members include Huobi China, the State Information Center, WeBank, China UnionPay, China Mobile, and China Telecom. [… Read More on PYMNTS]

Payments | JPMorgan Blockchain Payments Network Eyes January Japan Launch: The U.S. banking multinational is eyeing a launch for its Interbank Information Network (IIN) in the East Asian nation possibly in January. Built on Quorum, a permissioned blockchain based on Ethereum and developed by JPMorgan, IIN is designed to enable member banks to exchange information in real-time, allowing them to verify payment has been approved. This, the bank says, helps reduce friction in international payments and ultimately leads to faster processing times. The system is also a way of reducing the risk of money laundering, which is why over 80 Japanese banks have expressed an interest in joining IIN, Sanai said. Japan has been under pressure to up its anti-money laundering game since the Financial Action Task Force found "numerous and serious deficiencies" in 2014. [… Read More on Coindesk]

Healthcare | Anthem Will Use Blockchain To Secure Medical Data For Its 40 Million Members: Anthem, the second-largest health insurance company in the U.S, has started to use blockchain technology to help patients securely access and share their medical data. The company plans to roll out the feature, which is in pilot testing now, to groups of members in the next few months. All 40 million members will have access to it in the next two to three years, according to company officials.

What blockchain potentially gives us the opportunity to do is not worry about those trust issues. We have an opportunity now to share data that people can make their own decisions on.

- Anthem CEO Gail Boudreaux

IoT | 75% of IoT Firms Want to Add Blockchain: While there are still few large-scale use cases of blockchain, the Internet of Things (IoT) industry turns out to be "a sweet spot" for the adoption of such technologies.

"75 [percent] of IoT technology adopters in the U.S. have already adopted blockchain or are planning to adopt it by the end of 2020 out of more than 500 U.S. companies."

- Avivah Litan, IT industry analyst at Gartner

Blockchain technologies can create a trusted environment for data transmissions between virtual networks or devices while increasing the efficiency of such exchanges, according to the survey. According to Litan, of the 75 percent of blockchain adopters, 86 percent are implementing both IoT and blockchain in various projects. IoT companies aim to integrate computing devices with digital and mechanical machines to avoid human-to-human or human-to-computer interaction. For example, Apple Watch and Amazon Alexa are using these technologies in consumer goods. The technologies can also be used in the healthcare, industrial and military sectors. [… Read More on Coindesk]

Gaming | AMD Joins Blockchain Game Alliance, Partners With Marketplace Creators: Advanced Micro Devices (AMD) has joined the Blockchain Game Alliance and forged two new partnerships to help advance the technology's use in the industry. A Dec. 12 press release revealed that the chip manufacturing giant is partnering with blockchain technology providers Robot Cache and ULTRA — both of whom are working to develop and operate blockchain-based online gaming marketplaces. These marketplaces aim to establish new, secure purchase options and distribution channels for game publishers and users. The Blockchain Game Alliance (BGA) is an organization committed to the adoption of blockchain technologies in gaming by promoting the creation of common standards, facilitating networking and knowledge-sharing and encouraging cooperation and the implementation of best practices. [… Read More on CoinTelegraph]
The Final Word | Nike Wins Patents to Tokenize Limited-Edition "Breedable" Shoes
American footwear and apparel powerhouse Nike appears primed to be the latest major oncomer to the arena of tokenization — that is if a patent the company has just received from the U.S. Patent and Trademark Office (USPTO) is any indication. The patent first filed back in the spring and awarded by the USPTO on December 10th, is for a token system that would be built around Ethereum's ERC721 token standard, which allows a smart contract to represent a non-fungible asset via a tradeable token on Ethereum. These tokens, known more specifically as non-fungible tokens (NFT), are programmed to be irreversibly scarce and thus non-duplicatable, making them ideal for digital collectibles, gaming assets, and the like. In the case of Nike's patent, the outlined system would entail linking pairs of limited-edition CryptoKicks footwear, a line the company has envisioned to launch the aforementioned token meld, to unique owner IDs and virtual collectible NFTs representing digital versions of physical shoes. [… Read More on Blockonomi]
---
About Proteum
Proteum is a global blockchain investment and advisory firm that works with public, private and start-up companies to help them transition into the world of blockchains and decentralized applications. We help companies strategically build their ecosystem and unique capabilities so that they can own and control their future. ProteumX, our accelerator program, invests in and accelerates the time to market for startups and emerging ideas based on blockchain solutions.
www.proteum.io | info@proteum.io | Twitter: @proteumio | ProteumX