(Re)Innovating for A New World
Off The Blocks, Vol 114, May 19, 2020
The COVID-19 pandemic is creating a lot of turbulence worldwide. We are working with our partners to resolve some of the most complicated and challenging issues to get the economy back on its feet - with a little help from our portfolio company Vottun and an ecosystem of partners in the US and Europe. Click here for our 4 part series on a back to work approach with digital health credentials.
---
A Global Shake-Up
Big changes have chain reactions and there has been nothing bigger than this pandemic for a large chunk of the world's population. The economic fallout from the coronavirus has been swift and the second-order effects have not yet been accounted for. So, to expect that the word will magically return to a bygone era of 'normal' business and personal behavior is not even an option. While nobody has a crystal ball to predict the course of the economy over the next few years, what remains true is that there will be a rebuilding of a social and economic order throughout the world. Innovation in technology and financial markets will play a huge role in paving a path forward.
In my various conversations with CXOs across the world, it is apparent that most of them are relying on digital transformation to get through the current lockdowns. Those that can adapt to working from home have leveraged technology tactically and are going about their business. Those working in essential industries don't have the luxury to do so and are required to perform their work 'normally'. Additionally, a rapid change in the patterns of consumption and behavior is impacting industries and the people employed in different ways. The below graphic provides a glimpse of the first-order effects of the impact of coronavirus on employment. The impact on workers on the lower wage of the spectrum seems to be disproportionate.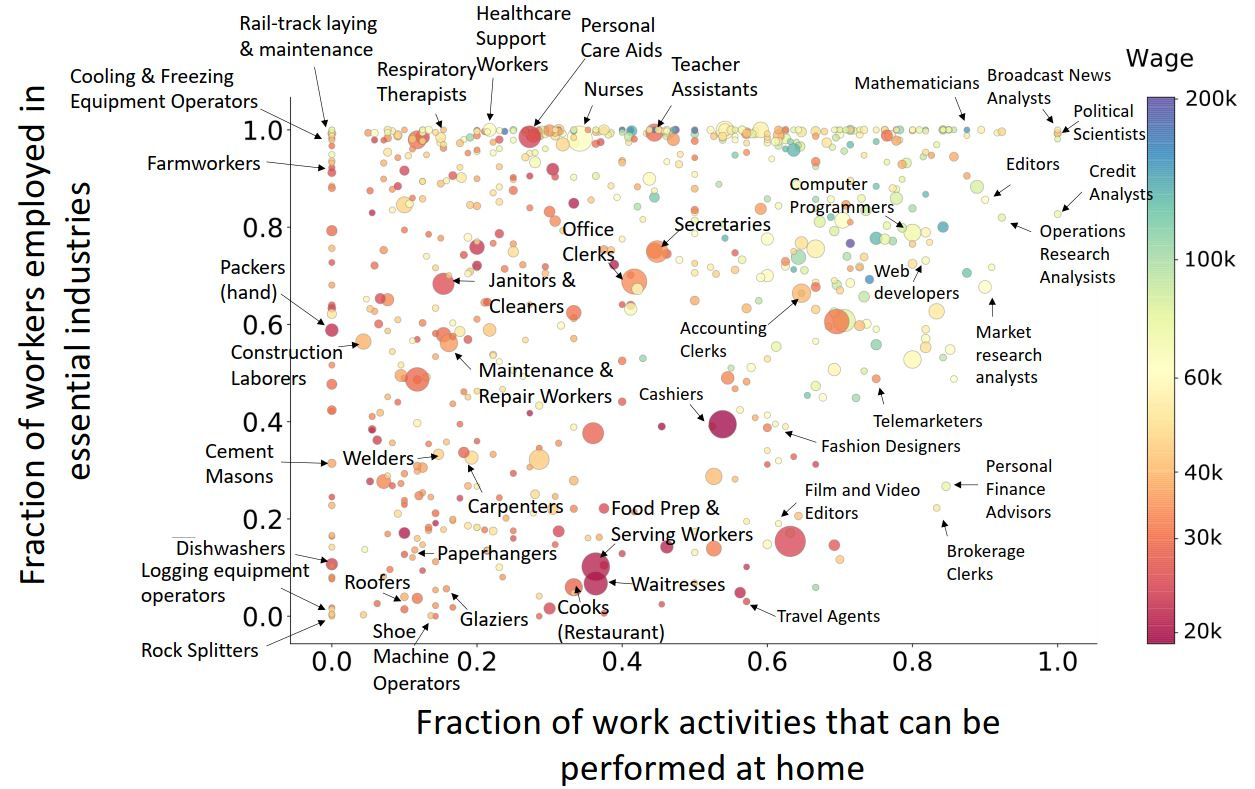 This crisis must serve as a wake-up call and a call to action for business and government to think, act and invest for the common good and confront the structural obstacles that have inhibited inclusive economic growth for years.

- Jamie Dimon, CEO, JP Morgan
The worldwide displacement of labor has been phenomenal. The headlines are all about the job losses and most commentators have opined about the frailty of demand stemming from unemployment. In addition, traditional models in education, retail, services, manufacturing, supply chains etc. are already broken. Experience from past recessions also teaches that we are in for a period of about 12 - 18 months before the offshoots of growth start to appear.
(Re)Innovating for a new world
A strong silver lining is emerging in this current crisis. The availability and access to technology (and resources as a result) has been refreshing and for enterprising folks across the globe presents unprecedented opportunities for creativity, starting their own businesses or simply educating themselves in areas that can position them as strong candidates for the new world order. Undoubtedly, it will be hard for older workers to retool themselves for the oncoming digital surge, but we have seen how people in developing countries have embraced technology that is easy to use and solves their needs - M-Pesa, WhatsApp, etc. So the hunger to adopt new ways of working and connecting is prevalent worldwide.
Today, more than ever in the past recessions, it may be easier, efficient, and more productive to create new economic models than try to revive traditional models. There are some tailwinds that are becoming observable now:
Decentralization: The era of decentralization ushered in by bitcoin a decade ago appears to be a steady force and gaining strength. Uncorrelated to financial markets, bitcoin is charting its own course and is attracting a new set of institutional investors who have sat out of the game so far.

When you think about every bull market, there's one common thread: an expanding universe of people who own it. The estimates are between 55 and 70 million people own bitcoin. If you're buying bitcoin, you're betting that number [will go up].

- Paul Tudor Jones, macro investor

Along with bitcoin, there is a whole other universe of cryptocurrencies that is creating a place for itself in the financial markets. Popularly known as DeFi (decentralized finance) it is creating new incentives and opportunities to decouple from traditional financial markets. Lending protocol dYdX is a case in point that is creating new markets and accounts for almost half of all DeFi revenues.

The attraction of DeFi is not lost on corporates either. Since the start of the crisis, Facebook has updated its Libra white paper, added Temasek as a new partner and gone on a hiring spree to beef up its core team including tapping an HSBC veteran for the CEO role. Reddit announced two Ethereum tokens to reward its users. The use cases are not limited to just financial applications. Thanks to the chaos in global supply chain markets, private permissioned blockchain technology such as Hyperledger is having its own resurgence. As companies seek transparency in their globally connected operations, this is a good time for them to dump legacy technologies and embrace digital assets that can power them through the future. A new economic system is in the making and the power of decentralized rails to usher in global change should not be underestimated, especially when the macro-financial environment looks to be on shaky grounds.

Ineffectiveness of Incumbents: The global pandemic has also turned most corporations to look inwards to their core competency and hunker down into a survival mode. Large enterprises such as Uber have wound down their innovation units and Sidewalk Labs abandoned its Toronto waterfront smart city project in a bid to tide through the crisis. These are simply precursors to the oncoming shift in priorities. For most companies, whatever worked in January is not working now and will require a complete rethink on how they do business and stay ahead of the competition. Precisely when they should be taking bold steps forward, companies find themselves locked in a battle to survive and protect their market shares. While this may lead to business model innovations, they will quite certainly be looking outward for fresh ideas on capturing new markets, audience, and geographies. This bodes well for startups to start to nibble at markets that would have been too daunting to enter just a few months ago. This is exactly where enterprises that have a strong innovation ecosystem around them will emerge stronger.
Strategically, the conversation now needs to shift to "What's Next", for the perils on not addressing the shifting sands ushered in by the pandemic will only delay and be the cause for more pain later. Companies need to develop a flexible approach to incorporate innovation into their roadmaps to take advantage of a pent up demand, or grab market share, or balance their cost structures and operational overheads for speed and agility.
---
About Proteum
Proteum is a global blockchain investment and advisory firm that works with public, private and start-up companies to help them transition into the world of blockchains and decentralized applications. We help companies strategically build their ecosystem and unique capabilities so that they can own and control their future. Velocity, our innovation hub, invests in and accelerates the time to market for startups and emerging ideas.
www.proteum.io | info@proteum.io | Twitter: @proteumio | Velocity