The Token Economy, Blockchain Jobs and SEC Goes 'P2P'
Off the Blocks | Vol 58, Mar 12, 2019
This newsletter is our weekly roundup of some of the significant blockchain news, that provides an overview of the rapidly changing blockchain landscape to help you map your blockchain strategy and be aware of regulatory announcements globally. Get your friends to Subscribe Here.
---
The Token Economy
The crypto token economy is alive and kicking.
Nowhere is this signal more pronounced than with the announcement of Samsung's new crypto wallets and distributed apps ecosystem for the newly launched smartphone Galaxy S10. The wallet designed as cold storage (meaning it is not connected to the internet) is compatible with Ether (ETH) and Ethereum based ERC-20 tokens. While the wallet does not currently support Bitcoin, it is a reminder that the world is rapidly moving towards digital assets.
Baked in with the Samsung wallet at launch are decentralized apps (DApps): a crypto gaming platform Enjin, crypto collectibles platform CryptoKitties, merchant payments service CoinDuck and a beauty community Cosmochain with its own cryptocurrency, the Cosmo Coin. Cosmochain lets users earn Cosmo Coins in exchange for leaving beauty reviews in the app. The blockchain is supposed to be a useful way to record all the reviews reliably.
Technically, using the Opera web browser, any Android phone can be used as a 'wallet' that can hold Ethereum, which already has a large existing community of DApp developers. Over a period of time, the capabilities will surely be extended to support more networks, cryptocurrencies and crypto-assets.
The token economy is spurring business models that could not have been imagined just a few years ago. Until now, most global corporations have operated under geographical constraints. For example, it is almost impossible for Facebook users outside of the US to acquire Facebook stock and participate in the ownership of the network, even though a bulk of the stock's value is created by them. A token economy changes this fundamentally. Take Kakao, a South Korean messaging giant that recently raised $90M from a tokenized offering for its subsidiary Ground-X. The company inherently encourages profit sharing with network participants as a means to expand into global markets.
Until now, Kakao has only operated in Korea, but through blockchain we could expand into the global market. That means taking a portion of the profits we earn as an intermediary and using it to expand our market by sharing it with users.

- Jason Han, CEO, Ground-X, a subsidiary of Kakao
No creative professionals are sitting on the sidelines. Emaar Group, one of the the United Arab Emirates' largest real estate developers and the firm behind iconic properties such as the Burj Khalifa, The Dubai Mall, Dubai Opera, The Dubai Fountain etc., has jumped into the fold and is developing its own "Emaar Community Token" for its customers and partners. The token will allow Emaar's customers and stakeholders to reap the value of a full referral and loyalty system across the entire group, cementing the global brand and opening the Emaar experience potentially to billions of internet users. This will be among the first referral and loyalty tokens in the world giving access to an existing operational ecosystem of close to US$10 billion. The token will be transferable across the entire global Emaar ecosystem, including real estate, malls, hospitality, entertainment, facilities management and online shopping.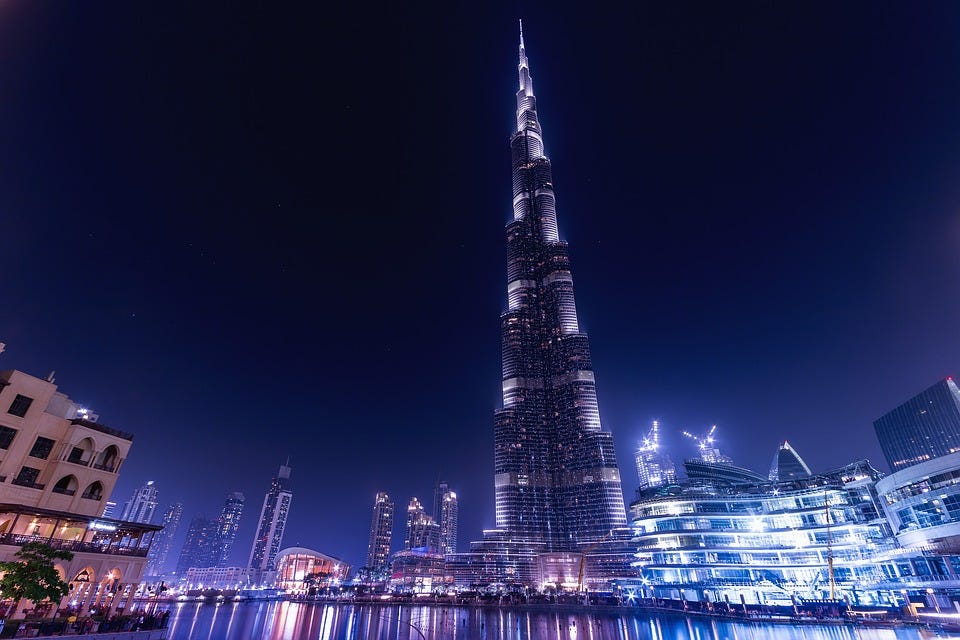 Image Source: Pixabay
Accordingly, fintech advocates in the US, not wanting to lose ground to foreign entities, are eagerly seeking answers from regulators on when things like digital tokens should be deemed to be securities. The Blockchain Association, which represents cryptocurrency exchanges and fintech companies, said the fintech industry needs certainty on the issue.
We think it's right to register an investment product like an ICO as a security when it functions like a traditional security. But when a token is used in a decentralized network and is no longer dependent on the entity that created it, we believe existing securities laws shouldn't apply.

- Kristin Smith, Director of External Affairs, The Blockchain Association
Such clarity will go a long way in providing a robust pathway for governance as well as creating long term value by unleashing a host of latent opportunities.
---
Now for some other significant news form the world this week:
Blockchain Spending | Growing to $2.9B in 2019: Worldwide spending on blockchain solutions is forecast to be nearly $2.9 billion in 2019, an increase of 88.7% from the $1.5 billion spent in 2018, according to IDC. IDC expects blockchain spending to grow at a robust pace over the 2018-2022 forecast period with a five-year compound annual growth rate (CAGR) of 76.0% and total spending of $12.4 billion in 2022. Global blockchain spending will be led by the financial sector, where the banking, securities and investment services, and insurance industries will invest more than $1.1 billion (combined in blockchain solutions this year. The manufacturing and resources sector, driven by the discrete and process manufacturing industries, and the distribution and services sector, led by the retail and professional services industries, are forecast to see blockchain spending of $653 million and $642 million respectively this year. [… Read More on IDC]

Blockchain is maturing rapidly, and we have reached an inflection point where implementations are moving quickly beyond the pilot and proof of concept phase.

Solving Congestion | Negotiating Road Space with Blockchain: Twenty-three teams competed over four months to create blockchain or distributed ledger related solution to address mobility issues affecting today's world. Held at the BMW Group IT Center in Munich, the award event featured finalist presentations and public demonstrations of potential uses of blockchain and related technologies in coordinating vehicle movement and improving transportation in urban environments. First place winning team Chorus Mobility worked on a project to address growing congestion in urban cities. Their platform allows autonomous vehicles to coordinate driving routes, infrastructure utilization, and allocate rights of way based on demand and availability. [… Read More on Bitcoinist]

We deeply share MOBI's ideas on the future of mobility and continue working hard on our joint mission to improve traffic safety, decrease the number of congestions and lower the cost of mobility by utilizing the latest breakthroughs in distributed ledgers and consensus protocols.

ETFs | Blockchain ETF on the London Stock Exchange: Investment management company Invesco launching a blockchain exchange-traded fund (ETF) on the London Stock Exchange. For the effort, Invesco has partnered with London-based Elwood Asset Management, an investment firm specializing in digital assets, to launch the product called the "Invesco Elwood Global Blockchain UCITS ETF." The ETF is designed to target companies with the potential to generate "real earnings" from blockchain technology. The index, calculated for Elwood by German provider of financial indices Solactive AG, currently has a portfolio of 48 companies. These include cryptocurrency chip-maker Taiwan Semiconductor Manufacturing Company (TSMC), bitcoin futures trading operator CME Group, South Korean messaging app giant Kakao, Japanese cryptocurrency exchange operator Monex Group, online retail giant Overstock, Signature Bank and Square. [… Read More on Coindesk]

Japan | Banks Unite to Launch Blockchain Finance Services: Five Japanese banks have collaborated to launch a financial services infrastructure based on distributed ledger technology (DLT). Bank of Iwate, Bank of Yokohama, Aomori Bank, Akita Bank and Yamanashi Chuo Bank will work together on the platform, dubbed "Fitting Hub." The first service available on the platform — electronic delivery service — should launch in April. Such a collaborative system based on conventional database technology would be complicated the separation of data control. [… Read More on CoinTelegraph]

By combining distributed register technology and the data encryption technology, we are building a safe and low-cost system. With the electronic delivery service, it is possible to receive and manage form data from multiple financial institutions and companies on one screen.

Jobs| Top 3 Blockchain Employers are Old School Corporates: Despite the crypto-winter causing widespread layoffs for employees in the blockchain and cryptocurrency industry over the last few months, there are still plenty of jobs in the field. According to the data set, out of the 5,711 blockchain jobs being advertised on Glassdoor globally, employers in the United States account for half of all those jobs. Of the employers that account for the majority of these job openings, IBM takes the cake, as the tech-giant currently has nearly 110 open job positions for people familiar with the relatively new technology. Other notable companies with an abundance of blockchain-related job openings are Ernst & Young, Oracle, Deloitte, and PWC. Interestingly, of the top ten companies with an abundance of job openings, only three are directly related to cryptocurrencies. […Read More at TNW]
The Final Word | SEC Goes 'P2P'

The U.S. Securities and Exchange Commission (SEC) is going on tour in hopes of meeting with crypto entrepreneurs who otherwise might not engage with the regulator. FinHub, the SEC's branch dedicated to interacting with tech startups, posted a notice last week that it would be visiting major U.S. cities, allowing individuals or teams to set up face-to-face meetings with agency staffers to ask questions or provide feedback about issuing tokens or other issues under the regulator's purview. The road trip begins in San Francisco on March 26, at the SEC's local office, with the next visit planned for Denver. [… Read More on Coindesk]
We really do want to engage with folks that are seeking to innovate in this area and they should know that it's typically a positive experience. I'm hoping to keep this going at the local level too, recognizing that not everyone can travel to D.C. or New York.
---
About Proteum
Proteum is a global blockchain advisory firm that works with public, private and start-up companies to help them transition into the world of blockchains and decentralized applications. We help companies strategically build their ecosystem and unique capabilities so that they can own and control their future. ProteumX, our accelerator program, invests in and accelerates the time to market for companies building blockchain solutions.
www.proteum.io | info@proteum.io | Twitter: @proteumio | ProteumX